What Is A Tyre Pressure Monitoring System?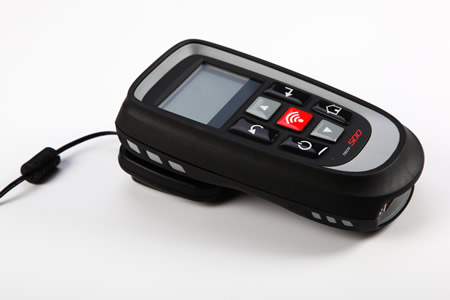 Bartec Auto ID have designed and manufactured hand tool solutions for TPMS since 1998. Beginning with automotive plants in the US, Canada and Europe. We have completed TPMS service tools for Nissan, Honda Canada, Suzuki, GM Holden, Volvo, Ford, Mercedes Benz, Mazda, and recently BMW Motorcycles to name a few. These tools are used by the OE dealers. For advice on which tool is best suited to your needs click on a link below for more information:
What Is A Tyre Pressure Monitoring System?
A tyre pressure monitoring system or TPMS is an electronic system for monitoring the air pressure in a vehicle tyre and automatically transmitting a warning to the driver in the event of an under and, in some cases, over inflated tyre. These systems have been legislated to be progressively installed on all new passenger carrying US and EU vehicles and similar legislation is being introduced worldwide.
The majority of systems use direct tyre sensors which transmit real time tyre pressure information to the driver of the vehicle either via a dashboard display or a warning light referred to as the tread light. The sensors are physical pressure transducers which are attached to the back of the valve stem or are in a form which is banded to the wheel. The sensors are manufactured by International companies such as Schrader, Alligator, Beru/HUF, Continental, TRW, Pacific Industrial, Lear and others.
There is no common technical standard for the sensors and the OE's and suppliers have generated a multitude of sensor designs. The Tyre Pressure Monitoring System sensors also transmit data such as their unique sensor ID, temperature, pressure, battery life (where applicable) and other diagnostic information. This data is sent to the Engine Control Unit (ECU) or specific receiver on the vehicle. Those vehicles which have graphical displays of the sensor positions can then show on which wheel there is a problem.
Why Is There A Need For A Tyre Pressure Monitoring System?
Tyre Pressure Monitoring helps drivers to properly maintain their vehicle tyres, improves vehicle safety and aid fuel efficiency. The National Highway Traffic Safety Administration (NHTSA) in the US has estimated that 533 fatalities per annum are caused by tyre defects in road accidents. The EU has carried out a similar review. Adding TPMS to all vehicles could avoid 120 of the 533 yearly victims and save as many as 8,400 injuries every year. Sécurité Routière (the French Institution for Road Safety) estimates that 9% of all fatal road accidents are attributable to tyre under-inflation and the German DEKRA estimated that 41% of accidents with physical injuries are linked to tyre problems.
Tyres leak air naturally and over a year a typical new tyre can lose between 3 and 9 psi. As most drivers only check their tyres at service intervals and when problems occur there is significant scope for fuel savings and efficiencies using a Tyre Pressure Monitoring System.
Given this background the US Federal government has legislated for the mandatory use of a Tyre Pressure Monitoring System. The TPMS mandated by the US law must warn the driver when a tyre is under-inflated by as much as 25%. There is a similar legislation for the EU, which has been passed in two steps. Since November 2012 all new registered vehicle models have to have TPMS installed. From November 2014 this will apply for all new registered vehicles.
The facts are that underinflated tyres are not just a huge safety issue. The other major benefits of properly inflated tyres include better fuel economy, longer tyre life and better stopping performance. The reality is that properly inflated tyres monitored by a properly running Tyre Pressure Monitoring System will save the consumer money.
Can You Tell The Difference Between These Two Tyres?
Since it is believed that the TPMS (including the sensors) may last as long or longer than three sets of tyres, then the value to maintaining them is high and will save the consumer considerable operating cost over the life of the vehicle.
70% Inflated Tyre
100% Inflated Tire
This is where Bartec comes in. With their complete array of TPMS service tools, the independent service centre, chain repair centre, Tyre Retailer and Service centre alike can properly maintain their customers' Tyre Pressure Monitoring System. This is the opportunity side of TPMS. Service technicians who can 'TURN THE WARNING LIGHT OFF' and send their customers away satisfied will quickly emerge as the leaders and reap the benefits the TPMS opportunity offers.
So when one of your vehicle tyres falls 25% below placard value, the warning light will be displayed on your instrument panel, letting you know to take action. This is a valuable feature in that in most cases you cannot visually detect the difference between a fully inflated tyre and one that is only 70% inflated.